AXA Commercial's Schemes and Delegated Authorities (SDA) team won the CSR (Corporate Social Responsibility) Excellence award at the Managing General Agents' Association (MGAA) Conference.
The award ceremony took place on Wednesday, 15 September 2021, at the MGAA's face to face Annual Conference held at ETC venues in London.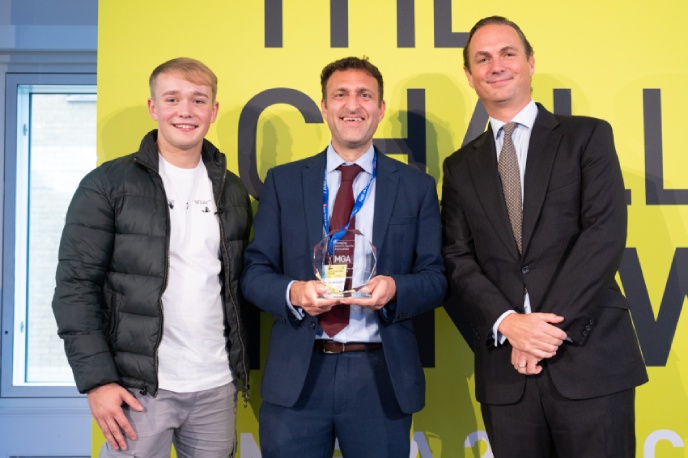 Karneet Chowdhury, Property Schemes Manager at AXA Commercial accepting the award alongside Billy Monger, an inspirational young British racing driver
The award celebrates the company who best demonstrates a clear CSR benefit, involvement and commitment of relevant stakeholders and employees; including things like reduced environmental impact or positive benefits for communities or areas, a continual improvement or sustainable growth and ongoing monitoring & review.
AXA's purpose is to act for human progress by protecting what matters. Our CSR programme does exactly that by focusing on promoting good health, progress in society and protecting our planet.
Following a long period of no face-to-face events, the conference itself had a significant turnout with over 750 people attending. AXA Schemes sponsored and exhibited at the event.
Watch Insure TV speak to Gary Head, Director of Schemes Delegated Authorities at the MGAA Conference about the MGA market (opens in a new window):